Using a VPN is essential if you want to keep your online identity safe from the government and hackers. VPNs alter your location by masking your IP address and encrypt your data so no one can steal it. Most VPNs are expensive and out of the reach of casual users who just want to protect their data and occasionally stream geo-restricted content.
Fortunately, there are free VPNs available that are just as good at protecting your data. In this article, we've created a list of the 5 best free VPNs of 2023 that we tested under different circumstances.
Here are our top 5 picks for the best free VPNs:
Whether you're a casual user who wants to watch foreign content or a political activist in a country where the Internet is heavily restricted, protecting your data with a VPN should be your top priority. Here are some reasons to use a VPN:
After a few days of testing, we found 7 free VPNs which we believe are the best at what they do. If you enjoy using them, we recommend subscribing to them to unlock all features and servers. Here are the 7 best free VPNs:
9.0
/10
In the world of free VPNs, ProtonVPN has cemented its place as the best service you can use to protect your online traffic. It also made it to our list of best (paid) VPN services of 2023. The company behind ProtonVPN gained popularity after it created an end-to-end encrypted email service called Proton Mail in 2014.
ProtonVPN is based in Switzerland and it's regularly audited by third-party cybersecurity firms. It comes with military-grade encryption, a kill switch, and DNS leak protection. We were able to stream Netflix Japan using one of its free servers.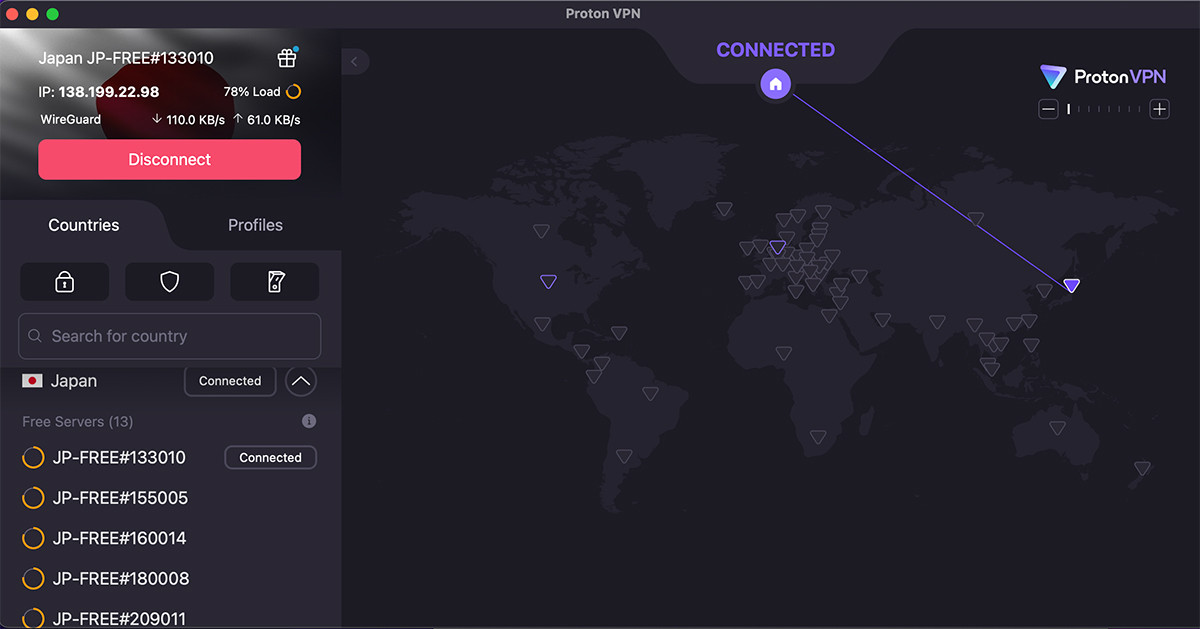 ProtonVPN on macOS.
Upgrading to one of its premium plans will give you more security features like ad blocker, P2P-optimized servers, and built-in Onion over VPN connectivity. ProtonVPN's 2-year plan is available for $5 per month.
The free version of Windscribe lets you connect to servers in 11 countries. All 11 of the servers gave fast speeds when we tested them. You can use the free version on as many devices as you want and it has a native app for desktop, smartphones, and even streaming devices. Windscribe's desktop app isn't as intuitive as ProtonVPN's, but it's still user-friendly enough to not cause any issues.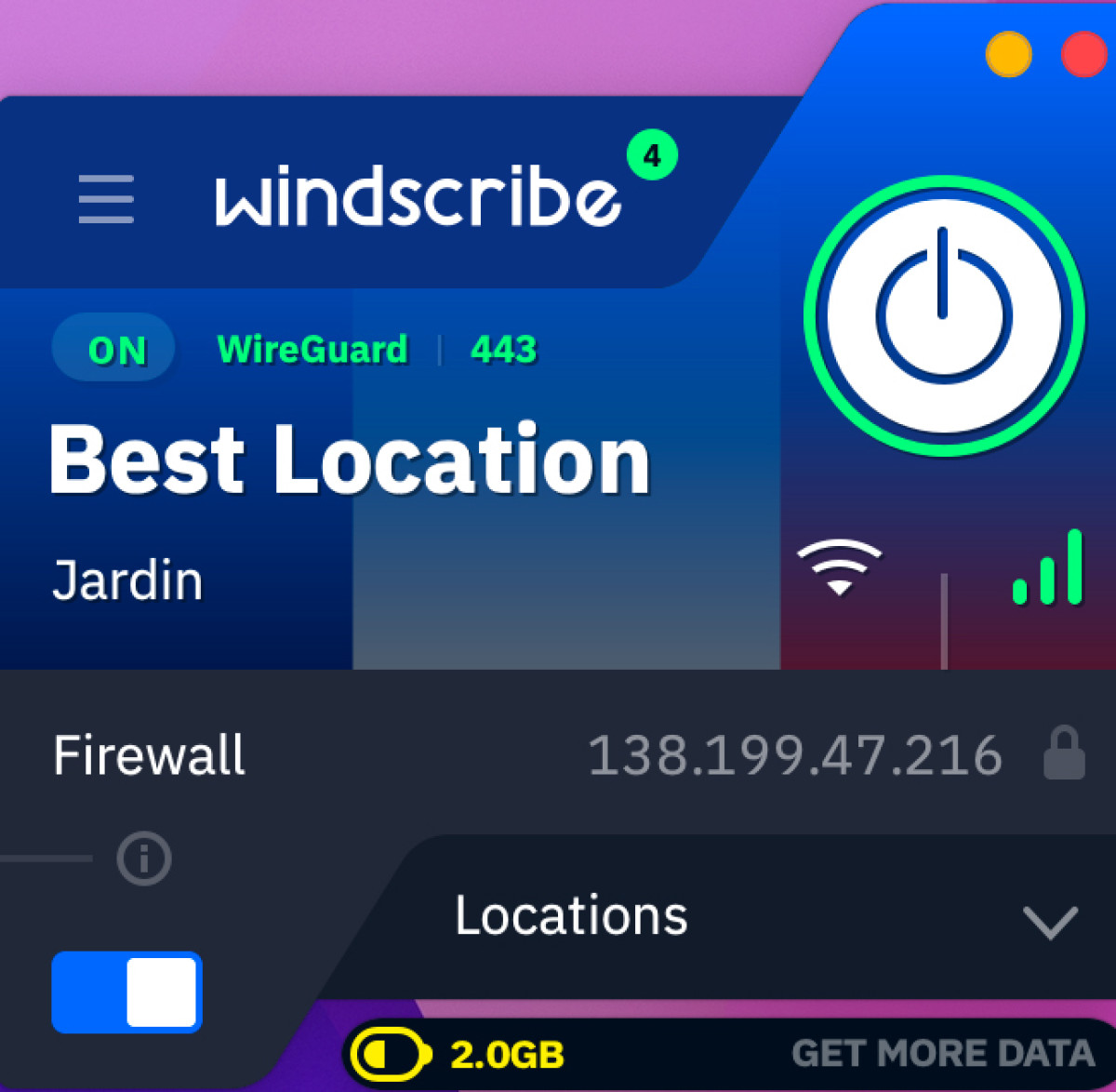 Windscribe's desktop app for macOS.
The free version unblocks Netflix and other streaming platforms easily, and it also includes security features like a firewall, DNS leak protection, and split tunneling. The paid version of the VPN has a yearly package that you can subscribe to for $5.75 per month.
Pros
Cons
PrivadoVPN comes with a 10 GB monthly limit and it has servers in countries including the USA and the UK. It's great at unblocking Netflix and we didn't run into any problem when downloading torrents.
Once the 10 GB limit is over, you'll only be able to connect to one server at the speed of 1 Mbps. The best thing about PrivadoVPN is that it comes with a kill switch, ad blocker, malware protection, and it doesn't keep logs. It's based in Switzerland, which is considered one of the best regions for online privacy.
The free version only has two protocols: OpenVPN and IKEv2. The lack of WireGuard may be disappointing, but if you're a casual user, then OpenVPN should be more than enough.
PrivadoVPN's yearly package is available for $4.99 per month.
Pros
Cons
Launched in 2020, AtlasVPN is one of the more recents free VPNs on this list. The free version of the VPN has servers in two countries: The Netherlands and the USA. The lack of server locations means you'll be extremely limited in terms of unblocking geo-restricted content.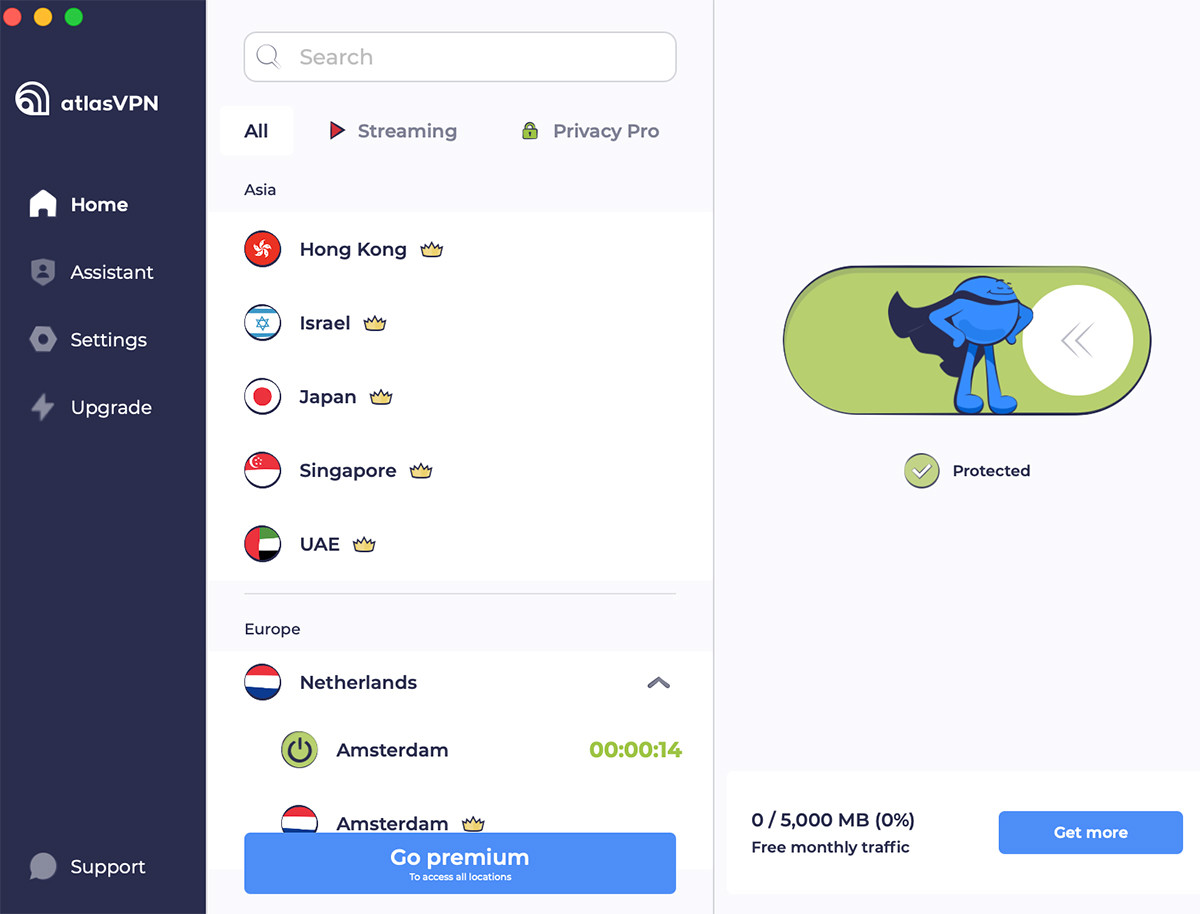 AtlasVPN on macOS.
When it comes to privacy, though, you get military-grade encryption along with WireGuard tunneling protocol which also gives you much better speeds than VPNs that use OpenVPN. The free version comes with a few security features like a kill switch and split tunneling (only on Android).
Since it's based in the USA (a 5 Eyes country), it's obligated to share data with legal authorities if asked. It's a no-log VPN, though, so it's unlikely for the VPN to have any records of its users' data.
AtlasVPN has a 3-year plan that you can get for $1.83 per month.
Pros
Cons
One of the most popular VPNs on the market, the free version of Hide.me lets you connect to five servers in four countries: the Netherlands, Canada, Germany, and the USA. This one is a personal favorite of ours as we've been using it for years and haven't run into any problems so far.
Hide.me claims to support P2P file sharing on all 5 servers, but because it has a 10 GB monthly limit, you won't be able to download large files. There's no registration required and you can start using the VPN immediately after downloading it. The free version comes with a kill switch and DNS leak protection.
You can buy the paid version for $3.00 per month.
Pros
Cons
Number of servers – 1800 servers in 26 countries
Location – Toronto, Canada
Simultaneous connections – Unlimited devices
TunnelBear is best known for having a "fun" and appealing UI. The free version of the VPN gives you access to all of its servers so you can unblock a wider variety of geo-restricted content than other VPNs on this list. During our tests, we were able to stream content from sites like BBC iPlayer, Hulu, and Netflix.
The free version has unlimited simultaneous connections. The only downside is that you get 500 MB per month and the only way to increase that limit is by tweeting about TunnelBear.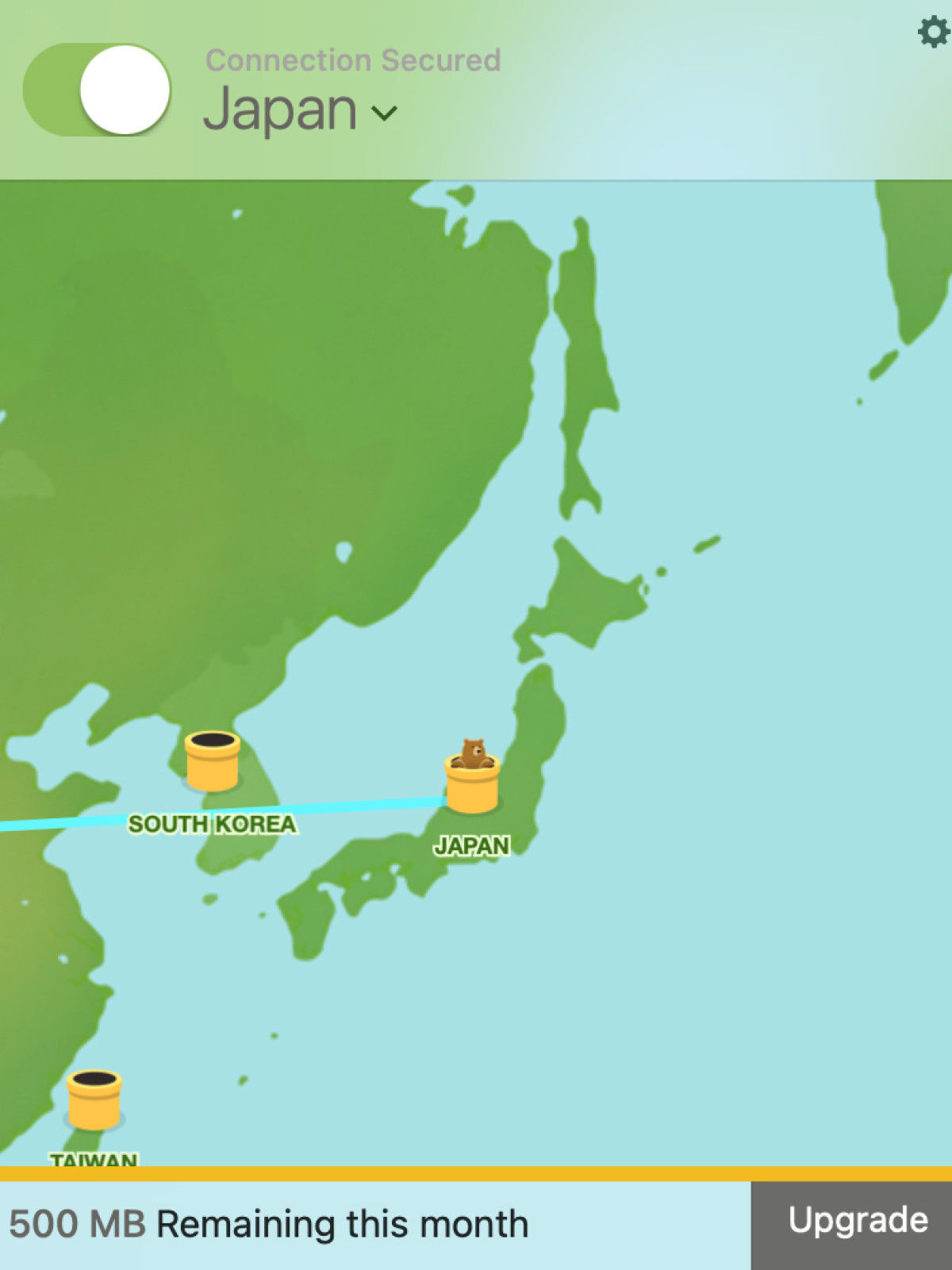 TunnelBear's macOS menu bar app.
You can get the yearly package of TunnelBear for $3.33 per month.
Pros
Cons
Based in California, United States, Hotspot Shield has been around since 2008. It currently has 3200+ servers in 80 countries, but the free version only lets you connect to US-based ones.
You can't use multiple devices at the same time on the free version and there's a data cap of 500 MB per day. We don't recommend using the Android app as Hotspot Shield has stated that it sells information about users to advertisers on Android.
Hotspot Shield is a no-log VPN so it doesn't retain any personally identifiable data. If you're located outside the US, then the free version is a good option as you can unblock streaming platforms in the US.
The yearly plan is available for $7.99 per month.
Pros
Cons
The abundance of VPNs can make it difficult for people to test them. Luckily, the cybersecurity enthusiasts here at Tech Lapse have all the time in the world to test them under different circumstances. Here are some of the things we considered when creating our list of best free VPNS:
To help you understand the differences between the best free VPNs on our list, we've created a table. Here's how they stack up against each other:
ProtonVPN
Windscribe
PrivadoVPN
AtlasVPN
Hide.me
TunnelBear
Hotspot Shield
Number of servers
3 server locations
11 server locations
9 server locations
2 server locations
5 server locations
1800 servers in 26 countries
1 server location
Location
Geneva, Switzerland
Ontario, Canada
Switzerland
Delaware, United States
Malaysia
Toronto, Canada
California, United States
No-log
Yes
Yes
Yes
Yes
Yes
Yes
Yes
RAM-based servers
No
Yes
No
No
Yes
No
No
Data limit
Unlimited
2 GB (can be increased to 10 GB) per month
10 GB per month
5 GB per month
10 GB per month
500 MB per month (can be increased)
500 MB per day
Number of devices
1
Unlimited
1
Unlimited
1
Unlimited
1
Using a free VPN is simple and you can easily connect to a server in a few seconds. Here are the steps involved in the process:
Some free VPNs, like the ones on our list, are safe to use. But most pose a security threat and we don't recommend using them. Many free VPNs will sell your data to advertisers because they have no other way to make money.
Moreover, you don't get a lot of security features in most free VPNs, which can put your online data in jeopardy. If you're not using a kill switch or DNS leak protection, two features that are essential to keeping your online identity safe, your data can easily get leaked or stolen.
If you're a casual user who just wants to watch geo-restricted content from different regions, then using a free VPN shouldn't be a problem for you. But if you regularly deal with sensitive information, then we recommend using a premium VPN like NordVPN.
Most free VPNs make money by selling your data to advertisers. They're great for people who want to dip their toe into the world of VPNs and see what using one is like before making any commitment. They come with a limited number of servers and features, and most have a monthly data limit.
If you want to use a free VPN, we recommend ProtonVPN. It has a visually appealing UI and doesn't have a data cap. One feature we like about it is the dark mode. You also get a kill switch and DNS leak protection with it, so your data is always secure.
Paid VPNs have a more serious obligation to be transparent and protect your data. They provide more features like split tunneling, Double VPN servers, and Onion over VPN. Most of them have a strict no-log policy that's been externally audited multiple times and they use RAM-only servers so no data is retained.
One paid VPN we enjoy using is ExpressVPN. It has a proven no-log policy and tons of advanced security features to keep your data safe. Check out our full list of best no-log VPNs of 2023 to see how it compares with other similar services.
To sum it up, some of the best free VPNs of 2023 include ProtonVPN, Windscribe, and PrivadoVPN. Most free VPNs have a data limit and they only let you connect to a limited number of servers. ProtonVPN, for example, only has 80+ servers in three countries and Windscribe has a data limit of 2 GB per month.
Most free VPNs aren't safe to use as they make profit by selling your data to advertisers, but the ones on our list don't engage in that practice and you can use them to stream geo-restricted content on sites like Netflix and Amazon Prime.
We've found ProtonVPN to be the best free VPN because it has no data limit and you can use it for as long as you want.
To use a free VPN, just pick one you like from our list, download and install it, and then connect to a server. The entire process shouldn't take more than a few minutes.
Once you've used a free VPN, we recommend switching to a paid one like NordVPN because it has more features and servers. Paid VPNs are generally safer to use because they have a strict no-log policy that's been proven through independent audits.
You should only use a free VPN if you're hesitant about paying for a premium VPN and want to see what it's like to use one. Most free VPNs are extremely limited in terms of advanced security features and server count, but they do change your IP address and encrypt your data so you can easily test them.
Yes, free VPNs are capable of masking your IP address and encrypting your data. Some free VPNs even have a kill switch and DNS leak protection, but most have no security features and their server networks are quite limited. If your intention is to unblock geo-restricted content, then free VPNs will work just fine.
Yes, but it depends on where you're located. Free VPNs are completely legal in most regions, but if you're in a country where it's not, like China, you could end up being fined. Note that even in countries where VPNs are legal, you're still not allowed to participate in any illegal activity with them.
Yes, you can watch Netflix and other streaming sites with a free VPN. We tested a number of free VPNs with Netflix and most of them were able to unblock it. We recommend ProtonVPN since it has servers in the Netherlands, USA, and Japan, and it doesn't have any data limit.
Here you will find all the important information you need to stay safe online. We explain what malware and cybercrime is and how you can protect yourself against these threats.
Find a VPN
Sections
About us